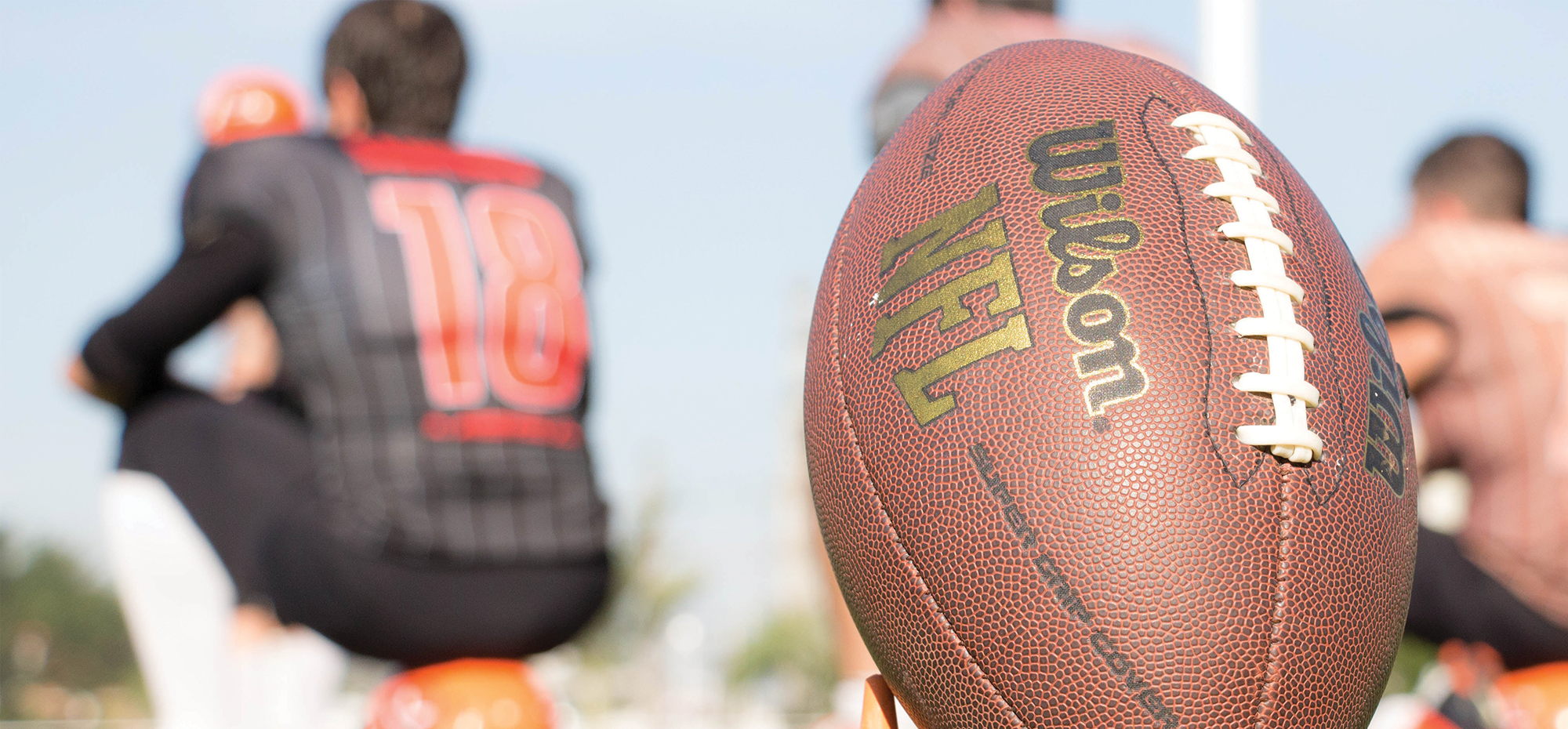 How The Internet Changed The NFL
The NFL is the most powerful organization in sports. Each game rakes in ad revenue by the millions. The average team is worth $2 billion. Its power comes from its huge (and devoted) fan base—the 2014 regular season alone reached over 200 million unique viewers.
That massive fan base used to have two ways of interacting with the NFL: they could watch games on their TV, or they could go see them in person. But the Internet is fundamentally restructuring how that community interacts with football.
These days, football fans can watch one game on their tablet and another on their TV. You can have your fantasy scores pulled up on one tab and another open to Twitter, where you're reading the NFL's coverage of the events. It's totally changing how people consume football.
It's not a slow shift, either—popular fantasy football sites like FanDuel and DraftKings are pretty new on the scene, and they've already changed how fans interface with games. Long-time Patriots fans are suddenly rooting for players on the Jets—if only for the sake of their fantasy game.
What's more, it looks like there will be more change in the near future. Recent investigations into insider trading in daily fantasy sites—not to mention the debate over classifying them as online games or online gambling—are sure to mean more changes to come. The Internet is opening up possibilities for what fans' relationship to football will look like—and the NFL is responding in some very interesting ways.
Soon, We'll All Be Streaming Games
The Internet reshaped how we watch TV. Instead of watching things in real time, we binge-watch. We Tivo. We Hulu. What's more, online sites aren't just hosting content—any fan of Making a Murderer or Transparent knows they're actually producing it.
Sports is one of the few kinds of programming that hasn't made the transition from cable to Internet—but it's starting to happen.
The NFL has allowed some streaming in the past. For years, it had a deal with DirecTV in which any subscriber to the service could also stream games on their computer. Initially, it seemed like an unnecessary service—if you could get the game in your living room, why would you also want it in your computer? Nowadays the question is more likely to be "why can't I stream this again?"
As of this season, we're finally seeing streaming options more widely available. In 2015 the NFL reshaped the DirecTV deal to offer viewers a streaming-only option. The package, called NFL Sunday Ticket, is open to anyone—even if they don't have a satellite on their roof. They even have a discount for college students, because they know that it's pricey.
Websites Are Turning Into Networks
What's more, they're not just giving contracts to TV networks anymore.
In October 2015, Yahoo Video streamed its first NFL game. It was the first time an NFL game was viewable for free for anyone with an internet connection. Yahoo had streamed other major events before. They once streamed a Taylor Swift concert, and in 2013, they tackled the Emmys.
This was totally different. Football fans have different expectations than casual awards show viewers. They have no patience for lag or low resolution. A frozen screen right after a QB throws the ball on third and long is going to get a lot of people yelling at the screen. Not okay.
"We have a significant portion of the world's Internet bandwidth reserved for this game," Yahoo VP Ron Jacoby told Wired. Yahoo really wanted to get this move right—they wanted to show off the promise of watching TV on the internet and position itself as the ones that would make it happen.
To some, it was just a single game, but to Adam Cahan, senior vice president of mobile and emerging products at Yahoo, it was the earliest stage of a massive opportunity: "I think about it from the perspective of a hundred-and-fifty-plus billion dollar industry that is set to be disrupted," he said.
Look Out for Rebundled Cable Packages
Streaming games could reshape what cable packages look like. Football carries a lot of smaller, less lucrative shows in a cable package. This is especially bad news in an era when people want the shows they like a la carte.
Rather than losing subscribers to illegal streaming sites, the cable industry is catering to that desire by changing their packaging. It used to be that if you wanted to watch The Sopranos, you had to buy a giant cable bundle, even if you weren't going to watch all those other shows. Now, HBO fans can subscribe to HBO Now, or even go to Amazon and pay for a single episode.
If people are able to stream games a la carte, cable packages could look totally different in a couple of years.
Mobile's Gonna Matter
For a long time, the trend was to watch sports on bigger and bigger screens. Mobile technology almost feels irrelevant in the world of giant flat screens. Why would you want to watch football on a 4-inch screen when you can watch on a 48-inch one?
But mobile's already becoming more important in football.
Double The Screens, Double The Revenue
Mobile viewing is increasingly popular. DirecTV's NFL Sunday Ticket not only has a stream-only option; it has a mobile-only option. It's the cheapest package you can buy, and though it's the first year the service has been offered, it looks like fans are pretty happy with it.
For the most part, people use mobile viewing as a second screen technology—they watch on their phone when they're watching a different game (or games) on the TV, or even when they're on the go (perhaps to or from a place with a bigger TV). It supplements, but doesn't cannibalize TV viewing.
And you better believe the NFL is capitalizing on this two-screen phenomenon by pushing mobile viewing—in part so they can make more ad revenue.
Important to note: the NFL slices their cake differently from any other content provider. Though they sell the TV rights to their games to partners like ESPN or CBS, they retain the rights to stream games to tablets, computers, and mobile phones. ESPN, then, can broadcast a game to TVs, but not to mobile devices.
The NFL sold that right to Verizon, who now has the exclusive deal to the mobile rights to NFL games. This is totally against what other sports leagues do—the National Hockey League, for example, will go to a provider and they'll give it to you on all their devices. The NFL is getting more money by having their cake and eating it too.
Twitter For the Touchdown
Another way to integrate mobile devices is to have people not just watch football, but to watch it on one screen and talk about it on another. The NFL is embracing social media as a way to get people to consume football in more than one medium at once. The NFL was pretty late to embrace Twitter. Just before Twitter went public, they inked a deal with the NFL—one of the first of its kind.
ESPN has the rights to air the feed from Monday Night Football, but they can't tweet their clips. Now, the NFL has dedicated Twitter programming, with its own production unit. They tweet highlights during games, highlights of news, and even fantasy football.
At the moment, these are sponsored posts all coming from Verizon, which creates ad inventory they then split with the media company (in this case, ESPN).
The NFL has historically been very protective of their digital rights—they're very conservative in terms of who gets to share their stuff. This Twitter deal is their first partnership in social media.
But they're slowly experimenting. It's huge untapped ad revenue, and they want to make sure they get it, and not one of their partners.
Fantasy Football is Changing What Fans Care About
For decades, the main TV advertisers in sports were beer and auto companies. That's no longer the case. You'll still see plenty of spots for Budweiser and Lincoln, but if you watched any football this year, you might have possibly DEFINITELY noticed a new category of commercial dominating breaks - fantasy football sites. Specifically, DraftKings and FanDuel—each organization has spent over $100 million this season to blanket the airwaves.
For those who aren't familiar, these sites work differently than your office's season long fantasy competition. Rather than betting on an entire season of fantasy you compete based on a weekend of player performances, making these platforms hugely popular in an era of short attention spans.
The Fantasy Sports Trade Association reports that 52 million people are playing fantasy football every day. Industry revenues are expected to rise 41% a year, reaching $14.4 billion in 2020.
Both companies also have big links with the NFL and other major league operations—their action takes place online, and has had huge repercussions for how we consume football.
A Different Kind Of Spectatorship
Fantasy sports have been around for decades. But it's become a multi-billion dollar business now that the Internet makes data about statistics readily available. The time required to manage your fantasy team has shrunk considerably. Sure some people still devote hours per week to it, but you can turn in a pretty solid fantasy season with far less effort in part because of the proliferation of sites, blogs, Twitter accounts, etc. devoted to analyzing and advising. Now that you don't have to invest quite as much time managing, the barrier of entry has lowered and brought a slew of new fantasy fans along with it.
And because of fantasy, people are watching games for entirely different reasons. They're not necessarily sitting down to enjoy the entirety of a game. They're interested in small parts of it—the parts they bet on.
Increased Viewership
Though people might watch games at a shallower level, they're certainly watching more football. If your fantasy league is built of a bunch of teams—and you have a lot of money riding on how they do—you're going to watch more games (on your phone, perhaps.) It used to be that you watched your local team—now you're invested in everything nationwide.
As sports marketing consultant Marc Ganis told CNN, "Fantasy has been a major asset to the league and a meaningful driver of fan interest." It might be what's increasing the NFL's viewership, which is at a record high—Nielsen reported the NFL saw its largest tune in ever for a Week 1 game this year. One of the fastest growing demographics of the NFL's new viewers is women, who represent about 75% of new viewers. It should be no surprise, then, that the number of female fantasy players is growing—1 in 4 fantasy players are women.
Fantasy football has piggybacked on the popularity of football to produce its own content, everything from fictional shows like FX's The League, to talk news programs devoted to fantasy football, like ESPN's Fantasy Football Now and CBS's Fantasy Football Today. It creates a more voracious customer base—and feeds them with more content.
The Future of Football
In many ways, football hasn't changed much over the past century. But as players remark, it can feel like a totally different game than even a few years ago. For example, players get congratulated for games that their teams don't even win. If a QB throws 5 touchdowns, it doesn't matter what the final score is - anyone who started that QB on their fantasy team that week is psyched.
Fans aren't necessarily interested in the whole team, they're interested in players as individuals. That shift is almost antithetical to football, a sport that relies on a team acting in unison to achieve a goal. Internet culture, including online communities like fantasy leagues and Twitter, are fundamentally reshaping how people engage with the league and individual games.
It's all symptomatic of a much larger trend: the ever-changing relationship between the NFL and its fans.
Virtual Reality
So what's next? Perhaps virtually viewing games. Virtual reality technology is already being used by some teams for training purposes. Instead of taping practices to coach players on what they could be doing better, coaches are having them re-live the experience of a kickoff to see how they can improve.
The next step might be to bring that technology to the fans. New technology like Oculus Rift—a virtual reality simulator from Facebook set to release next year— opens up a world of possibilities. A recent article from Fortune described some of the work the NFL has done with NextVR, another virtual reality company, including recording three games from this season, ready to be viewed using virtual reality technology. In fact, fans in San Francisco for the Super Bowl will be able to view these games by visiting the NextVR booth at the NFL Experience.
As it evolves and becomes more readily available, virtual reality will likely offer an even more immersive experience than watching a game on TV. Imagine viewers that can feel like they're actually at a game, perhaps even on the field. It's going to be a whole new viewing experience.
Fans' relationship with the NFL will continue to evolve in the coming years and that evolution will continue to be influenced by new ways of integrating tech and the Internet into America's most popular sport.